We make every attempt to keep our fees reasonable and affordable.
You are entitled to an estimate of our fees so you can ask for one. Our estimates are for the initial treatment, usually within the first 24 hours of care.
Please realize that in some cases it is difficult to provide an accurate estimate until we have obtained all the information necessary from tests to determine the treatment plan. Treatments change depending on the condition of the patient from day to day.

We are happy to offer a litter discount of 20% to our breeder clients.

Our examination and consultation fee is $48.00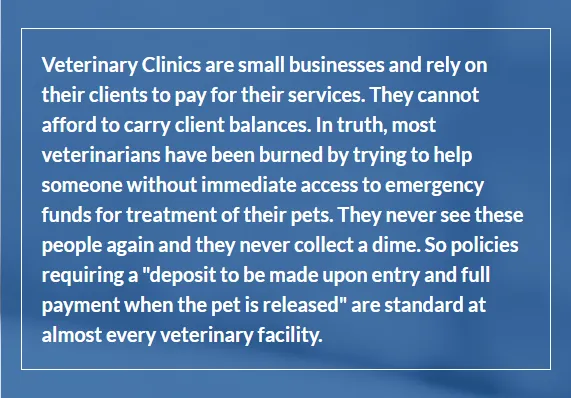 Economical Veterinary Care For Your Pets
Yearly Vaccinations and Wellness Blood Testing (Includes a comprehensive physical examination)
We publish our fees so that you can compare pricing. (Fees as of 03/2022 subject to change)
Yearly Physical Exam and Vaccinations Packages
Dog Yearly with Heartworm/Fecal Tests $130.00
with wellness blood testing (over 7 years) $230.00
Cat Yearly without Feline Leukemia Vaccine $96.00
with wellness blood testing (over 7 years) $191.00
Cat Yearly with Feline Leukemia Vaccine $130.00
with wellness blood testing (over 7 years) $230.00
Dog core vaccinations include distemper, hepatitis, leptospirosis, parainfluenza, parvovirus and 1 year rabies vaccine.
Cat core vaccinations include feline distemper, feline viral rhinotracheitis, calicivirus, chlamydia and 1 year rabies vaccine. Additional $32 fee for Feline Leukemia vaccine.
In Alabama, a 3 year rabies vaccine is now available. Add $27 to each yearly.
1 year Rabies vaccine for dog or cat $18.00
Kennel Cough Oral Vaccine $25.00
We Recommend Wellness Blood Testing for pets over 7 years old
Special pricing with annual vaccine visit
We can run all of these tests in our office laboratory in under 20 minutes.
Early detection of internal diseases not easily diagnosed on physical examination
Complete Blood Count - for infection, anemia, clotting and other blood cell problems
Blood Chemistry Panel – for diabetes, liver, pancreas, and kidney function, dehydration
Electrolytes – checks for abnormalities of mineral balance
$100.00 with annual vaccines $160.00 regular price
Add thyroid testing to wellness profile
Many older cats have a small thyroid tumor that increases the thyroid hormone level and causes weight loss (hyperthyroid). Many older dogs with skin problems and weight gain have thyroid disease that decreases the thyroid hormone level (hypothyroid).
$39.00 with annual vaccines and wellness blood profile $48.50 regular price
---
Spay and neuter your pets!!Please call for estimates for other surgical procedures.
We are now using the new 3 day pain injection after surgeries. No need to give pain pills after surgery.
Elective Surgeries
(fees as of March 2022, subject to change)
Cat Declaw front feet $254.00
Dog Spay under 25 lbs. $286.50
Dog Spay 26-50 lbs. $330.50
Dog Spay 51-100 lbs. $409.50
Cat Spay $250.50
Dog Castration under 25 lbs. $282.50
Dog Castration 26-50 lbs. $311.50
Dog Castration 51-100 lbs. $366.50
Cat Castration $155.50

Spays, castrations, and declaws include gas anesthesia/monitoring/LONG ACTING pain shot.
Spays and castrations, go home the day of surgery. One night of hospitalization is included if needed.
Declaws remain in the hospital one night.
Pre-surgical blood screens additional fee.
Cryptorchid males (retained testicles) extra.
In heat, pregnant, or pyometra females extra.