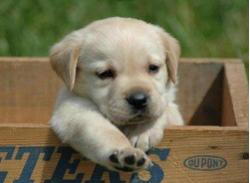 Congratulations on getting your new puppy. Raising a puppy can be a rewarding and sometimes frustrating effort. Please read over the information we have provided here so that you will become familiar with the medical needs of your new friend. Feel free to ask the doctors or staff members about housetraining , teething, obedience training or behavioral problems.
 Puppies should be fed a commercial puppy food, which provides much needed Calcium, Phosphorus, and Vitamin D, all needed for building strong bones. Puppy food also provides extra calories because puppies are more active and equire more energy in their food. Measure the appropriate amount of food with a measuring cup based on the package recommendations for the puppy's age and weight to prevent diarrhea from overeating. Divide the food into 3 daily feedings until the puppy is 6 months of age. After each feeding a reflex will stimulate the puppy to have a bowel movement. Free feeding prevents this reflex. It is easier to housetrain a puppy when you can predict the bowel movements. After 6 months reduce feedings to twice daily. 
Teething pups will chew on everything in sight, so make sure that you provide several things that your puppy will be allowed to chew on, like a rawhide, a squeaky toy, and a tug toy. Be careful to avoid toys that look like familiar objects, like shoes, because that will signal to the puppy that chewing shoes is OK. Do not give your puppy more than 5 toys at any one time because too many toys signals that everything is OK to chew on. 
We check puppies for worms and other parasites that they may be born with or acquire after birth. Deworming your puppy for specific parasites helps the puppy use its food properly to allow normal growth and development. Often, intestinal parasites can cause diarrhea, dehydration, and anemia. Avoid over the counter dewormers because they are not that effective and they may miss specific parasites that your puppy is harboring.
 Puppies need to begin their vaccination series at 6 weeks of age and they need to continue receiving vaccinations until they are approximately 4 months or 16 weeks of age. This will allow your puppy's immune system to produce immunity levels necessary to prevent many of the serious infectious diseases. These puppy vaccination visits also allow the doctors to examine your puppy to check for growth problems or diseases. 
Proper timing of vaccinations is important to insure immunity. This vaccination/deworming schedule should be adhered to as closely as possible. We will send you reminder cards in the mail or e-mail when your puppy needs to have a vaccination or a deworming. 
6 WEEKS Physical Examination Distemper-Hepatitis-Parainfluenza-Parvovirus Vaccination Fecal examination to check for worms and other parasites Deworming (if necessary) Kennel Cough Intranasal or Oral Vaccine (if puppy will be boarded) 
9 WEEKS Physical Examination Distemper-Hepatitis-Parainfluenza-Parvovirus Vaccine Second deworming (if necessary) 
12 WEEKS Physical Examination Distemper-Hepatitis-Parainfluenza-Parvovirus Vaccine (Ear trims are done at 13 weeks after the third Parvovirus vaccination) 
16 WEEKS Physical Examination Distemper-Hepatitis-Leptospirosis- Parainfluenza-Parvovirus Vaccine Rabies Vaccination (One year Tag and Certificate will be issued) Begin Heartworm preventative medication 6 MONTHS SPAY OR NEUTER Your new puppy's health is our number one concern. We are your puppy's PETiatricians. 
Vaccine reactions What to expect after your pet's vaccination It is not uncommon for pets to experience some or all of the following mild side effects after receiving a vaccine, usually starting within hours of the vaccination. If these side effects last for more than a day or two, or cause your pet significant discomfort, it is important for you to contact your veterinarian: • Discomfort and local swelling at the vaccination site • Mild fever • Decreased appetite and activity • Sneezing, mild coughing, "snotty nose" or other respiratory signs may occur 2-5 days after your pet receives an intranasal vaccine More serious, but less common side effects, such as allergic reactions, may occur within minutes to hours after vaccination. These reactions can be life-threatening and are medical emergencies. Seek veterinary care immediately if any of these signs develop: • Persistent vomiting or diarrhea • Itchy skin that may seem bumpy ("hives") • Swelling of the muzzle and around the face, neck, or eyes • Severe coughing or difficulty breathing • Collapse A small, firm swelling under the skin may develop at the site of a recent vaccination. It should start to disappear within a couple weeks. If it persists more than three weeks, or seems to be getting larger, you should contact your veterinarian. 
Always inform your veterinarian if your pet has had prior reactions to any vaccine or medication. If in doubt, wait for 30-60 minutes following vaccination before taking your pet home